Hello,
I'm so excited to share my first sewing project that is almost complete. I have been very lucky to have my mother help me with this, I would have been lost! It was fun working with her!
I had picked up this beautiful sewing machine early summer, I was so excited about learning to sew! It's taken me this long to have something to show,but I'm ready! I look forward to many more projects especially with the holidays coming! Who doesn't want a personal homemade gift? I know I do! You just know their from the heart! So here we go!
I wish I had more pics from the start, I'll know next time!
This amazing vintage material, I bought at an estate sale and I have been saving forever! I think it's just beautiful! I was hard cutting it! I do think this was the perfect project! I do want to be able to use and show it off!
So excited! Rewarding too!
This is Gavin and my back porch!
Happy Sunday!
Carly
I'm linking to Linda's Coastal Charm @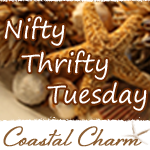 And
http://www.freeprettythingsforyou.com